PlayStar Warranty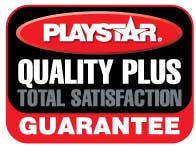 PlayStar is dedicated to providing products manufactured to quality standards that meet or exceed customer expectations of its intended use.

PlayStar, Inc. warrants its products, to the original residential purchaser, to be free from defects in material and workmanship under normal and proper usage.

No warranty is offered on goods subject to normal wear and tear, unreasonable use, abuse, improper installation or maintenance, vandalism, alterations or modifications, acts of God, cosmetic issues including rust, scratches and discoloration, or product not used as intended or designed.

PlayStar, Inc. reserves the right to examine photographs, physical merchandise claimed to be defective, and to recover said merchandise, freight prepaid by purchaser, prior to disposition or warranty claims.

PlayStar's sole liability under this warranty is strictly limited to the repair or replacement of any defective product. In no event shall PlayStar's liability under this warranty exceed the actual cost of materials necessary for repair or replacement of the product covered, whichever is less. PlayStar shall not be liable for incidental, indirect, or consequential damages caused by its products.

PlayStar's warranty is in lieu of all other warranties, whether express or implied, including any warranties of merchantability or fitness for a particular purpose. PlayStar's warranty gives you specific legal rights. You may have other legal rights that vary from state to state.
CLICK LINKS BELOW to Register Your WARRANTY